BetFair Casino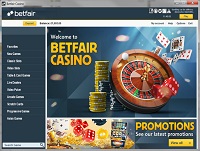 BetFair Casino has come from a brand that has been around for the majority of the betting industry; starting out as a regular betting shop before they branched out to internet giving betters the chance to bet on their favourite football or rugby game. Now the site has a whole range of sites in one including horse racing, football, multiples, Poker and Arcade so it is only natural that they should also provide a casino site. Betfair Casino has an excellent reputation and players return to play their games year after year. Betfair are that good at what they do they achieved an award back in 2007 from the Egaming Review that branded them operator of the year.
BetFair Casino has is operated through Playtech Software which provides excellent high quality downloadable software. Even though most players choose to use the download you can just play the games instantly and also just for fun without even becoming a member, a perfect way for you to decide if you want to be a member or not. Where you can choose from such a wide range of games, Betfair have every reason to be confident that play for fun individuals will return to become a member.
The BetFair Casino website sticks to the professional catchy layout on every site so the players will feel at home regardless of what play mood they are in. The design is clear so players can easily find their favourite game which can sometimes be especially difficult when you haven't played it for a while.
As soon as you access the friendly site you will see the categories of games listed down the left hand side and the current progressive jackpots to the right so if you are the sort of player who seeks a good time with massive amounts of cash you will know where to head immediately. For players who are quite indecisive they can explore the A-Z of game section to search for the much needed inspiration, sometimes it can be hard to choose just one when so many are on offer, it is inspiring that Betfair realise this. If players want to know something about anything at all they can visit the FAQ section and type in a keyword and their answer will appear.
Betfair Casino Games
BetFair Casino has so many games on offer; they can guarantee that whatever mood you are in you will find the perfect game to match it. They have an overwhelming selection of Table games, Slots, Video Pokers, Card and Arcade games all with fantastic jackpots to partner fun entertainment for their players. As the games are cleverly listed all in one place, players will find them all very easily so they can feel free to swap and change if a game is not working out for them.
BetFair Casino offers games similar to the ones you will have played back in the good old days like Darts and Baccarat to modern day beauties like movie fuelled progressive slot games. There are umpteen versions of the much sought after games of Roulette and Blackjack including 3D roulette if you really want to imagine you are in a real casino. You may also choose to play from one of over fifteen Video Pokers and other well known games like Keno and Lotto.
Online Slots
There are over 50 themes of online slot games to choose from; including sports, film themes, and traditional themes like fruities and even spooky games like Haunted House so you can jump your way to a massive cash payout. There are numerous pay lines for you to choose from along with a variety of reels for you to select.
The most popular games are the ones that are created due to a fabulously popular movie or the series of Marvel slots to include titles like X-men, Fantastic Four, Iron Man and Blade. Regardless of the game you end up playing you will notice the greatest in high definition technology with amazing bonus choices enabling you to win big every time whilst enjoying yourself at the same time.
Progressive Jackpots
Betfair offer an extensive range of games with Progressive jackpots including poker, Blackjack, Darts and a wide variety of the slots. Many people associate Progressives as games they generally wouldn't normally play for big money, players often long to play their favourite games for huge jackpots, Betfair clearly pick up on this by offering the most popular games with progressive opportunities including the Marvel slots that are in so much demand.
At the moment the greatest Progressive Jackpot is one of the slot games called Gold Rally 8 Lines which is currently at just under £1 million. Some other games that use a Progressive include card games and the ever so famous scratch cards; it is now possible to win as much on these cards as it is with the cards you would purchase in the shops.
Betfair Casino Bonuses and Promotions
When new players register at BetFair Casino they receive great welcome bonuses which continue throughout their stay at Betfair from time to time. Players are also automatically entered into a rewarding loyalty program that gives players extra points for placing wagers on games, so as long as you are playing paying games you will receive comp points which can be exchanged for playing money when you have collected enough. There are other promotions available periodically to players; for example at the moment have the opportunity to win a fabulous exotic holiday.
Betfair Casino Banking and Support
To make life easier for their players Betfair accept a wide range of payment methods which include credit and debit cards like solo, Maestro, Visa and MasterCard, PayPal, neteller, moneybookers, clickand buy, bank transfers, western union and cheques. They all take a variety of different periods and it is just bank transfers that come along with a fee.
The BetFair Casino support team are on hand to answer your queries at anytime day or night; simply send them an email or call them, all contact details are available on the website.
Winner Casino Review ← previous casino review ― next casino review → Crown Europe Casino Review