Europa Casino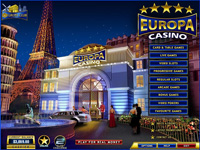 It's perhaps surprising to know that Europa Casino is probably one of the longest running online casinos around! Established in 1990 and online since 2003, Europa has spent the intervening 20 years growing in experience and developing a wide-spread reputation for quality in gaming, customer service and innovation.
Of course, part of that strength in innovation comes from Europa Casino running from a Playtech platform, which has its own well-earned reputation for presenting the highest quality and latest software innovations across the on-line gaming industry. One of the real benefits of the way Europa Casino has organised this platform is that it offers players the chance to play with real money sign up through "real play" or no deposit sign up and "free play", a really customer-friendly approach in enabling would-be members to try out on-line casino play generally, as well as the fun of those very specific and highly entertaining games on offer at Europa Casino.
Another added benefit to players is that play is offered in two modes: download for that complete gaming experience, or instant "Flash" mode for quick and easy betting fun.
Europa Casino's website presents a happy neutrality you'd expect from the UK end of an internationally themed site, with shades of blue and the cultural reflection of the European nations' flags as a friendly banner across the top right, offering quick links to all of the 'local' aspects of this international forum, as well as facilitating any required changes to the language of the site. Landmarks from many of Europe's capital cities also feature on the site's home pages, adding that pleasing cosmopolitan sense to being part of the Europa Casino community!
However, what's a real winner about the site is that literally everything you need is on that first casino 'lobby' page: one base from which you can get anywhere you please – the epitome of what it is to be European! There are plenty of side bar and banner links, as well as key information and inviting visuals, all of which are intuitive, informative and instantly available!
Europa Casino Games
As you would expect from a Playtech platform, there is a wide selection of quality games available at Europa Casino, from multi-line slots and 'traditional' tables, as well as highly popular progressive jackpots.
Again, Europa's "Play for Fun" option really comes into its own where the games are concerned. The 'fake' money allows players to really suss out the slots and try the tables, making it a brilliant stepping stone into virtual gaming for those who are more familiar with brick-and-baize casinos, or those who have no idea of the rules of play for sophisticated casino games such as roulette and blackjack. Of course there is the option of swapping to paid play if desired, but the no pressure, fun of the game approach that Europa Casino offers means that it is all about the customers' gaming experience, another reason why Europa Casino receives such consistently high ratings.
And you certainly need time to get to grips with all of the games on offer: there are 100+ games available across the casino, including craps, slots, roulette, keno and blackjack! Table games include an impressive number of versions of classic games, so that there is a version to suit most skill or bankroll levels. For example roulette is available in American, mini and French versions, as well as Roulette Pro. Europa casino has been highly rated in relation to its table layouts, which has proved to be very user-friendly and popular with players.
Europa Casino boasts an extensive range of Playtech slots: over 40 of their games are dedicated slot play and include those favourites such as Baccarat, Poker, Roulette, Craps and Keno. Other additions to this range, which again add to that cosmopolitan feel of the site are the Chinese games, with Sic Bo and Pai Gow both being available for play. There are of course also themed multi-line payers which are currently the hot slots across many online casinos!
Progressive Jackpots
Europa Casino also boasts several popular progressives in its slots lobby, and the main page also shows the current total jackpots available from these at any given time (in excess of £2 million at the time of writing)! Europa's Beach Life is a popular slot that tends to be a regular payer in excess of £100,000 each time, and of course the more popular it is, the more that jackpot builds and pays! Other games on offer include those progressives that bestow bet and line related payouts, such as Captain's Treasure with its 5,000 x line bet payout – so it really pays to bet the max!
Europa Casino Bonuses and Promotions
In keeping with its cosmopolitan persona, Europa casino has an amazing range of membership bonuses, plus of course that possibility of being a "free play" member! Membership brings a high level of customer service, special offers and member bonuses as a matter of course.
Banking and Support
Transactional currencies are currently EUR, GBP or USD. Transactional security is assured across the range of banking methods available through the Europa casino's cashiers, including Visa, Mastercard, Neteller, Click2Pay and Moneybookers. Again transactions are easy to access across many of the pages of the casino site.
Europa Casino offers a fully trained support team are available 24/7 to provide fast and effective assistance in response to any query, be it related to membership, banking, games or promotions. Again this support is readily accessible across the site – you really don't have to hunt it down to find it, epitomising the very customer - friendly nature of Europa Casino.
Omni Casino Review ← previous casino review ― next casino review → City Tower Casino Review